I had planned to have potatoes as a side last night, but I didn't really feel like mashing, and I didn't feel like eating them just boiled. Instead, I boiled them until they were fork tender, before smashing them individually with the potato masher. I placed them on a lightly greased pan and sprinkled them with spices (though I wish we had fresh herbs on hand to use - maybe next time!). They baked at 375' for about 20 minutes, until the bottoms were starting to get nice and brown. Then I sprinkled cheese on some of them before putting them back in the oven for a few minutes, just to make them a little more appealing to Isaac. Easy, and a nice change from the usual!
We had them along with
Honey Teriyaki Salmon
and some endamame. Have you tried that salmon recipe yet? You must. I can't encourage you enough. Since I found that recipe, we haven't made it any other way.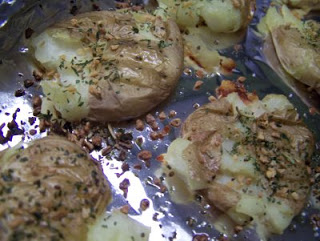 And the cheesy ones...