A year ago, I thought my freezer was 'well-stocked' when we had just hit a great sale on steak, seafood, or ice cream. Now, I get excited over stockpiled frozen cubes of
puréed
food. And who would have thought that steaming pears could be so exciting?
Here's my (Isaac's) stash of baby food goodness...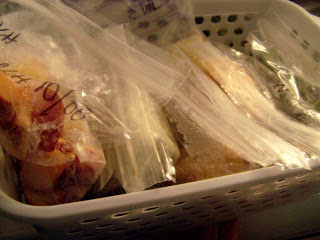 His repertoire currently includes rice cereal, oatmeal, chicken, apples, bananas, pears,
avocado
, peaches, prunes, sweet potato, peas, green beans, broccoli, and squash. Like Mama, like baby - he will eat anything you put in front of him!