This post is
so
ridiculously late! I've been an uber blog slacker lately. Here are the treats I made for Valentines day. I used this
sheet cake recipe
to make the cake. Once cooled, I used a heart shape cookie cutter to cut the shapes. Two pieces are layered with chocolate frosting and dusted with icing sugar.
Cake
Frosting/Filling
3 1/2 C icing sugar (plus more for sprinkling)
Whisk flour, baking soda and white sugar in a large bowl, and set aside. In a small pot, heat butter, shortening, coffee, and cocoa until boiling, stirring constantly. Add chocolate mixture to flour mixture, along with buttermilk, eggs, and vanilla. Stir to combine. Grease and flour jelly roll pan. Spread batter into prepared pan, and bake at 400` for 20 minutes or until tests done.

To make frosting, combine butter, milk, and cocoa in a small pot. Bring to a boil, stirring constantly. Remove from heat, and beat with icing sugar and vanilla until smooth.

Once cake cools, cut into shapes with cookie cutter. Sandwich two cake pieces with frosting, and dust with icing sugar.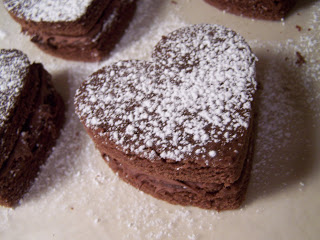 The cake recipe is easy, and makes a very moist cake that cuts well. I am definitely going to use this recipe again with different cutters for different occasions. And the "scraps" were yummy too!
They got rave reviews from everyone Isaac and I brought them to, along with this Valentine card.