Isaac went to meet a couple girls yesterday and we wanted to take them a treat. Carly and Ally are the beautiful daughters of Scott, my coworker. Although Isaac, like most 5 week olds, slept through the bulk of his time with the girls, I think they were still quite taken with him. And the cupcakes certainly helped his case!

Peanut Butter Cupcakes
(Taken from allrecipes.com)

1 C brown sugar
1/4 cup shortening
1/2 cup peanut butter
1 eggs
1 teaspoon vanilla extract
3/4 cup milk
1 1/4 cups all-purpose flour
1/2 teaspoon baking soda
1 teaspoons cream of tartar

Beat sugar, shortening, and peanut butter until fluffy. Beat in egg and vanilla. Combine dry ingredients and add to wet, alternating with milk. Pour into prepared pans (greased or with liners) and bake at 350' for 20-25 minutes. Yields 12 cupcakes.
I would recommend using liners, as these are very moist cupcakes and the additional grease may hurt their consistency. Mine turned out a little flat on the top because I didn't have cream of tartar and needed to do a substitution with baking powder. I'll have to pick some up next time I am at the Bulk Barn, because I will definitely be making these again!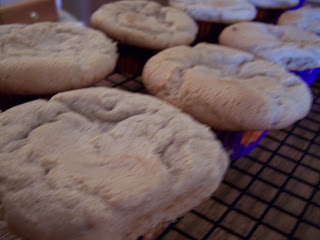 Chocolate Icing
1/3 C butter
1/2 C melted chocolate
1 1/4 C icing sugar
1 Tblsp cocoa
2 Tblsp milk (more or less)

Beat all ingredients until smooth. Add milk gradually until desired consistency is achieved.