Last night was much more fun than a usual weekday supper. My friend, Erin, came over and we cooked up a storm together and then pigged out!


First, we made the
egg rolls
that I posted a week or so ago. Then she made Kung Pao Chicken, and I made Drunken Noodles with pork. I first tried Drunken Noodles with take-out I had on the weekend and loved it. I googled it and checked with other food bloggers, but found a wide variety of recipes. I combined several of those recipes in making mine.

1 package of wide rice noodles
2 T Oil
3 Cloves of garlic, minced
1 Onion, chopped
1-2 Cups of pork, cut into bit-sized pieces
1 Green pepper, chopped
1 Red pepper, chopped
1 Tomato, chopped

Sauce (just mix to combine):
2 T Oyster Sauce
1 T Soy Sauce
1 T Rice Vingegar
1 T Fish Sauce
1 T Lime Juice
1 T White Sugar
1 hot thai pepper, diced

Place rice noodles in a bowl and cover with boiling water to soften.

Heat wok to medium heat. Add oil, garlic, and onions until browned. Add pork and cook until slightly browned. Add peppers and cook until softened. Add tomatoes, sauce, and noodles. Toss to combine, cover, and let sit over heat for 5 minutes before serving.

This wasn't quite as spicy as the take-out I had, but I am sure with some recipe tweaking I can get it there.


Drunken Noodles with Pork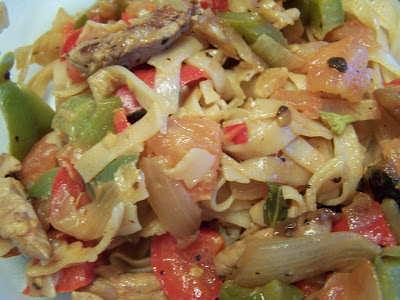 I don't have Erin's Kung Pao Chicken recipe, but I will get it and post it soon. It was delish!


Kung Pao Chicken