At the grocery store yesterday, I spotted some egg roll wrappers and decided that today was the day I'd try them out. They turned out so great! And it would be so easy to just tweak the recipe and seasoning to go with whatever else you are serving. I bought the wraps yesterday, but have since found a recipe online that I will try next time.
First things first, you have to make the filling...
2 Cups of chopped cabbage
1 stalk of green onion, chopped
1/4 cup of corn
1/4 cup julienned carrots
1/4 cup julienned green beans
handful of bean sprouts
1/8 tsp pepper
1/4 tsp sugar
1/2 tsp salt
1 1/2 tsp soy sauce
1 1/2 tsp canola oil
2 cloves garlic, minced
1 Tbs ginger, minced
Stir all ingredients together....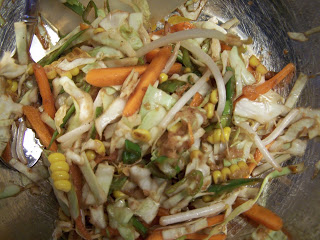 Lay out one egg roll wrapper, and put approximately 2 Tbs of mixture into the centre. Have egg white in a bowl to moisten your finger tip and wet each edge. Fold the top and bottom to the middle, overlapping them slightly. Then fold up the right and left ends and seal with egg white.
They are the cutest little packages with bloated little bellies...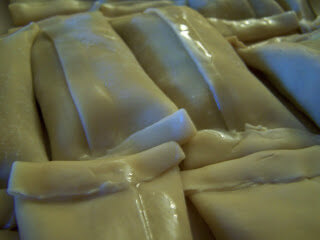 Recipes suggest deep-frying, but I am not cool with that...so I just heated a non-stick skillet with approx. 2 Tbs of canola oil and cooked them for about 7 minutes, flipping once. Some of the more round ones got more "rotated" than "flipped" because they were thicker and needed to be crisped on the sides.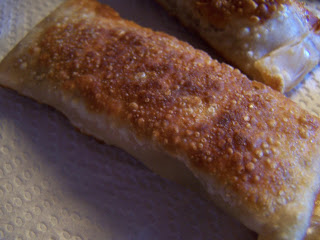 Look how delish and veggie-filled they are! Josh and I both loved them...I think he had about 7 last night and then took a couple more in his lunch today!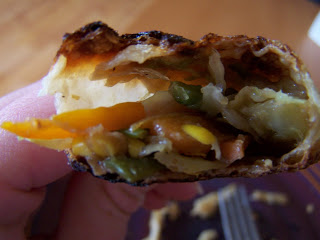 I served it with this strifry
Orange Ginger Pork Stir Fry
2 Tbs Soy Sauce
2 Tbs Canola Oil
1 Tbs Fresh Ginger, minced
2 Cloves of Garlic, minced
Zest of one orange
Juice of one orange
Marinate strips of pork loin in this mixture for 3+ hours.
Heat wok. Add the following:
Chopped green onion
Sliced mushrooms
Sliced red pepper
Whole green beans
Bean sprouts
Add the pork and cook thoroughly (approx. 5 minutes)
Prepare rice noodles separately and toss in wokto combine with sauce, meat, and veggies. Cook for another 2 minutes.