There is nothing like sitting down with a steaming hot dinner on a cold day. And for some reason, it always seems better when that dinner is in a bowl. Why is that? Soup, stew, curry...it always seems more cozy when a meal is served in a bowl.
Lots of stews are made with stock and thickened with flour. This stew is seasoned and thickened with Club House Gluten-Free Gravy Mix For Turkey. Club House has recently come out with a line of certified gluten-free products that are sure to satisfy even the harshest critics, which includes gravy mixes, potato starch, rice flour, and minute tapioca. With Club House Gluten-Free Gravy Mix for Turkey and water in place of stock, flour, and additional seasonings, this stew is gluten-free, simple to prepare, and full of flavour. (For all those who use Checkout51, there is a $0.75 rebate for Club House mixes this week!)
This turkey stew is incredibly versatile, very hearty, and can be on the table in about 15 minutes. And you bet it gives you the "cozy bowl" feeling I described above! You can easily change this recipe by swapping out the vegetables. Use potato, sweet potato, green beans, or anything else you have on hand. Try a few things and make it your own. You pretty much can't go wrong!
1 Tblsp butter
1 onion, chopped
2 ribs of celery, chopped
3 large carrots, peeled and chopped
3 C chopped cooked turkey
2 pkg Club House Gluten-Free Gravy Mix for Turkey
4 C water
1 C frozen peas
1 C frozen corn
In a large pot, melt butter and saute onions and celery until softened. Add carrots, turkey, and gravy mix. Stir to coat. Add water. Bring to a boil. Add frozen peas and corn. Reduce heat, and simmer uncovered for about 10 minutes.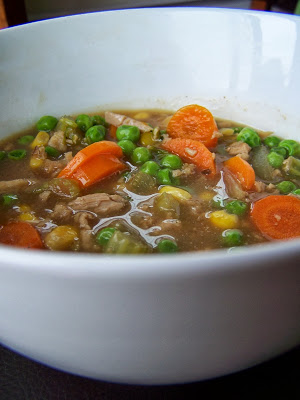 *This is a sponsored post. I have received free products and/or compensation for this post. The opinions featured here are always honest and my own*