Remember a few years ago, when I made
cake cones
for a birthday party? About a year later, our grocery store stopped carrying those mini cones and it made me oh-so-sad. They make for the perfect little serving to keep the kids smiling without getting all sugared-up! A month or two after they were gone, the store replaced them with flat bottomed mini cones. At first, I didn't think that they were nearly as cute as the old pointy cones...but then realized that the flat-bottomed cones would be able to stand up on their own. And, of course, that creates a whole new bunch of possibilities with them; like these 'Soft-Serve' Cake Cones!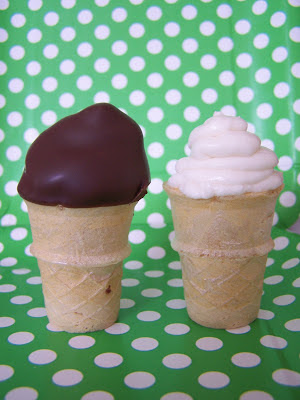 I wanted to make a special treat for Isaac's last day of kindergarten, but I didn't want to make a giant batch of anything (because I have no willpower when it comes to baked goods). I remembered a post on
How Sweet Eats
with a recipe to make just
two cupcakes
, and I thought that would be the perfect recipe to make just a few of these cones. That recipe yielded 8 adorable mini cake cones, which I frosted with a tiny batch of icing and dipped in melted chocolate to make them look a little more like the classic Dairy Queen cones.
Tiny Batch of Cake
1 egg white
2 Tblsp white sugar
2 Tblsp melted butter
1 tsp vanilla
1/4 C flour
1/4 tsp (heaping) baking powder
Pinch of salt
1 1/2 Tblsp milk
Whisk egg white and sugar together until well combined. Add melted butter and vanilla, and mix well. Add flour, baking powder, and salt and stir until smooth. Add milk, and mix to combine.
Stand up mini cones in a muffin pan. Fill with batter. Bake at 350' for about 12 minutes. (My oven is a bit slow, so watch them from about 7-8 minutes on!) Cool completely before frosting
Tiny Batch of Icing
2 Tblsp butter, at room temperature
1 Tblsp shortening
1/4 tsp vanilla
1/2 C + 1 Tblsp icing sugar
1 tsp very cold milk
Cream butter and shortening. Add vanilla, and beat to combine. Add icing sugar and beat very well. Add milk, and beat until fluffy. Pipe icing onto cooled cake cones to resemble soft-serve ice cream. If desired, chill well before dipping in melted chocolate.