It's time for another
$40 dinner party
! Chef Kim Steele of
East Coast Bistro
and I have teamed up to bring you another great 3 course dinner for 6 that you can make for under $40.
A theme in this dinner party is our encouragement to use what you have (or what is on sale) and alter these recipes to suit. As
Chef Michael Smith
says: "A recipe is merely words on paper; a guideline, a starting point from which to improvise." These seafood packets are so versatile - use whatever seafood is fresh, tickles your fancy, or is on special the day you are shopping. If you don't like zucchini, leave it out. If you love peppers, put more in. You really can't go wrong as your play with the recipe and make it your own.
Recipes
(Printer-friendly recipes can be viewed here)
Spicy Steamed Mussels with Lemongrass
1 stalk lemongrass, thinly sliced
1 T Thai green chilli, diced (or more, if you like it hot!)
Small handful of red pepper, thinly sliced
1/2 C coconut milk
1/2 C water
In a large pot, sauté lemon grass, green chilli, and red pepper in olive oil until softened and very fragrant. Add garlic, and continue cooking for another minute. Add coconut milk and water. Bring to a boil, and simmer for 3-5 minutes. Add mussels and cover pot. Cook on high for about 5-7 minutes to steam mussels. Remove from heat. Discard any shells that did not open. Serve mussels in their shells, garnished with fresh cilantro and a little of the cooking broth.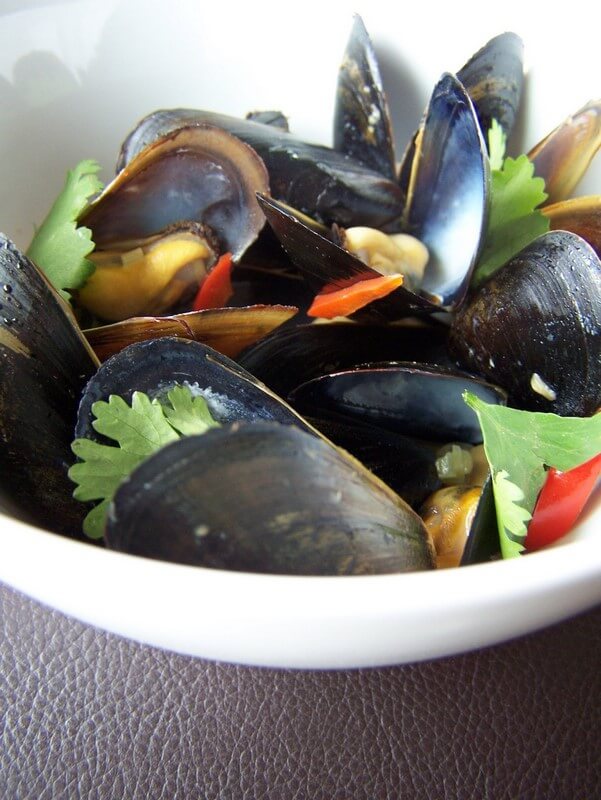 Seafood and Vegetables En Papillote
4 green onions, whites and greens separated
2 Tblsp Thai green chilli, diced
1 zucchini, thinly sliced into rounds
1 small bok choy, shredded
1/2 red pepper, thinly sliced
3 C of a variety of bite-sized cut seafood (We used salmon, salad scallops, and hake here)
Sauté whites of green onions and green chilli in a small pot until softened. Add cumin and curry powder, and stir to coat. Add coconut milk, and bring to a boil. Reduce to a simmer and add cilantro. Cook until fragrant, colourful, and slightly thickened (about 3-5 minutes). Season with salt and pepper to taste. Set aside.
Cut 6 generous portions of aluminum foil and parchment, about 18 inches each. Lay parchment on top of aluminum foil. In the center of each piece of parchment, arrange a variety of each vegetable. Over the vegetables, arrange seafood. (Ideally, you want about 1 C vegetables and 1/2 C seafood per package.) Sprinkle with greens of green onions
Drizzle about 2 Tblsp of sauce over seafood and vegetables in each packet. Fold parchment over the center from each side, and from top to bottom to create a parcel. Similarly fold aluminum foil and pinch to create a seal. You don't want to wrap these
too
tightly, as you want to leave space for steam to do the cooking. Place on a preheated grill over medium heat (or, alternatively, a 425` oven) for about 15 minutes.
While packets cook, prepare rice as directed. Serve cooked seafood and vegetables over rice, drizzling with sauce as desired.
What a colourful array of vegetables! But do you notice all the different shapes and sizes? These packets will cook for 15 minutes to cook the fish, so cut each vegetable so as to have it cook in the same amount of time.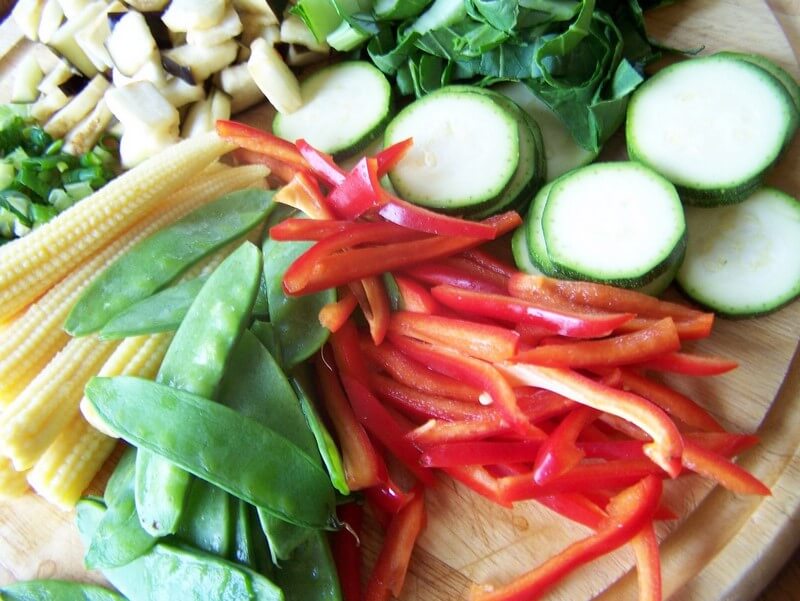 It doesn't need to be orderly...just get it all in there, and spoon a couple of tablespoons of sauce on top.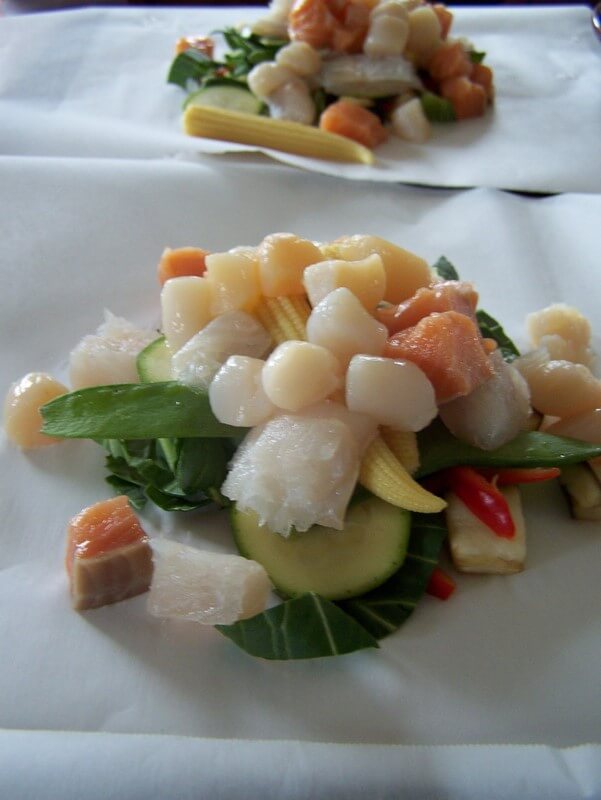 Contents of packet served over rice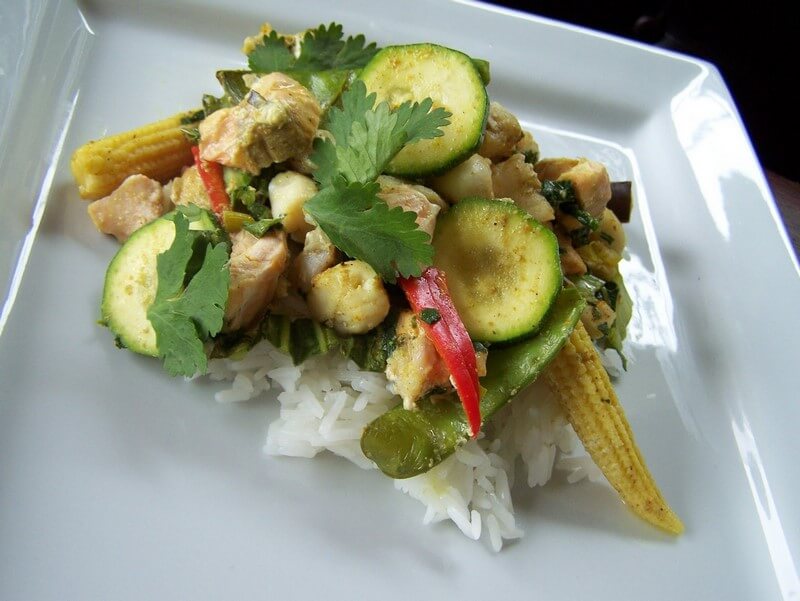 Grilled Pineapple with Vanilla Ice Cream
Peel and core pineapple. Cut in to 12 wedges. Combine honey, lime juice, and cinnamon. (This can be made easier by slightly warming the honey.) Brush over wedges of pineapple. Lightly spray hot grill with non-stick spray or brush with a little oil. Place pineapple wedges on grill, and cook for 3-4 minutes per side for a combined total of about 12 minutes. Pineapple should look as though it is beginning to dry out, but be careful not to burn or overcook. Brush with additional honey glaze if desired, and serve hot with vanilla ice cream.
If you are not a fan of pineapple, this recipe would work equally well with peaches. Simply halve peaches, and remove the pit. Cut in to wedges. Grill on all sides until tender.Grilling melon or pears could would well too. Experiment with whatever you have on hand, whatever is fresh, or whatever is on sale.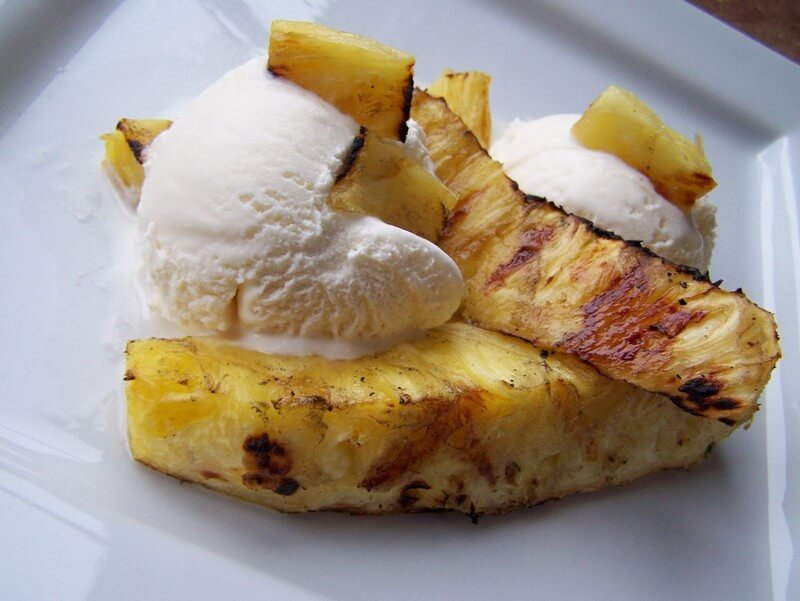 Grocery List
(
Printer-friendly grocery list can be viewed here
)
1 Zucchini
1 Red pepper
1 bunch cilantro
Handful of snow peas
1 red pepper
1 Thai green chili
1 bunch of green onions
1 small bok choy
1 stalk lemongrass
1 pineapple
1 lime
1 can baby corn
1 can coconut milk
Jasmine rice
Vanilla ice cream
2Lbs (900g) Mussels
Variety of seafood of your choosing - salmon, a white fish, scallops, shrimp... You could even purchase what is sold as "chowder mix"
Pantry Needs
Olive oil
Cumin
Curry powder
Cinnamon
Salt & pepper
Honey
Aluminum foil
Parchment paper
I'm linking this up with
What's Cooking with Ruthie's Super Saturday Show & Tell
, and
Thirty Handmade Days Linky Party
!