I am not a fan of your standard salted & buttered popcorn, but I love caramel corn...and let's not forget about that
peppermint bark popcorn
that I gorged on at Christmas. When I saw
this
popcorn via
Pinterest
, I knew I needed to try it! I improvised on the
original recipe
and I came up with this version to take to a party. It got really good reviews and, two days later, we were lamenting that we took the whole batch to the party...so we made a little half batch for ourselves to enjoy at home.
8 C plain air-popped popcorn
2 C (+/-) mini marshmallows
8 graham crackers, broken in to small chunks
1/2 C mini chocolate chips
6 oz white chocolate, melted
2 oz (+/-) dark chocolate, melted
Salt
Combine popcorn, mini marshmallows, graham crackers, and mini chocolate chips in a large bowl. Chop white chocolate coarsely and melt according to package directions. (I just put the chocolate in a glass measuring cup in the microwave, first for 40 seconds, then for 15 second intervals until melted, stirring after each interval). Once fully melted, pour the white chocolate over the popcorn mixture and immediate stir to coat. Pour to coated popcorn on to wax paper/parchment paper/silpat and spread into a single layer. Melt dark chocolate in a similar fashion and drizzle on top of the coated popcorn. Sprinkle lightly with salt. Allow chocolate to dry and harden before breaking popcorn into clusters.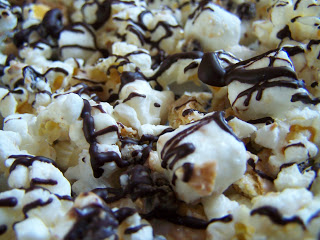 Speaking of s'mores...have you made these
s'more cookies
yet? You really should!