Lady Fingers were on sale last week and I planned to pick some up to have on-hand to make tiramisu sometime. (Because when I wanted to make it several years ago, I had a hard time finding any) When I got to the store, there was a clearance on ricotta cheese. Of course, traditional tiramisu is made with marscapone, but I figured I could find a ricotta based recipe somewhere...And
I did
! This was SO good, and ridiculously easy. It would be great to serve for a dinner party because all the prep is done the day before.
1 lb ricotta
1 egg
2 Tbsp rum
1/2 tsp vanilla
1 C sugar
1/2 C (+) strong coffee
Lady Finger biscuits (it took 2 1/2 packages of "giant" lady fingers)
1/2 tsp (+/-) cocoa
Combine first five ingredients in food processor and whiz until smooth (a minute or so). Lay biscuits in a single layer in the bottom of a 9x13 dish. Drizzle half the coffee over them (I found I needed a little more than 1/2 cup). Spread half of the ricotta mixture over evenly over the top. Repeat with second layer, and dust top with cocoa. Refrigerate for 6 hours or overnight. Slice to serve.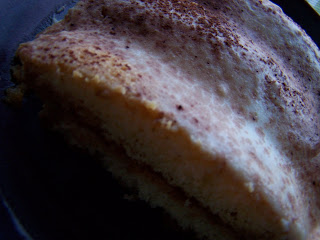 I found a tea ball to be perfect for getting the cocoa sprinkled lightly enough, and getting it evenly into the corners.