A friend recommended
this
recipe from a
Michael Smith
cookbook
she has been using weekly. We love all of the ingredients, but didn't have a recipe "in the rotation" that uses them all together. We both enjoyed this and it was a very filling meatless meal, though I'd add quite a bit more spice next time. I also didn't notice any added flavor from the orange juice, so I might use water or broth next time to eliminate that sugar (and it would bring down the cost of the recipe, which you know I love).
1
large
onion, diced
3-4
cloves
garlic, chopped
about 1-inch piece of fresh
ginger
, grated
1
tsp
curry paste
(I'd increase this big time!)
2
sweet potatoes, cubed
1
can
chickpeas
, drained & rinsed
1
can
coconut milk
1
cup
orange juice
1/2
cup
any nut butter (I used soy nut butter)
1
cup
frozen green peas
3 cups
baby spinach
(more or less)
a
bunch
chopped cilantro
Saute onion and garlic in a little oil over medium heat until they're lightly browned (5 minutes). Add grated ginger and curry paste, and cook for another few minutes until fragrant. Add the sweet potatoes, chickpeas, coconut milk, orange juice and peanut butter. Bring to a simmer, lower the heat and continue simmering until the sweet potatoes are tender, about 30 minutes. Stir in the peas, spinach and cilantro. Season with salt and pepper to taste, and serve over rice.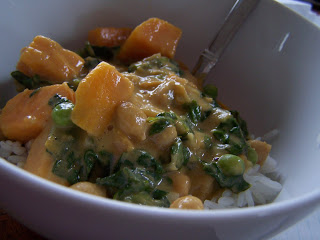 ,