With a little
inspiration from Betty Crocker
and a little creative lisence, I made this toffee and chocolate cheesecake for our friend Steve's birthday last weekend.
Crust
1 1/2 C Ritz cracker crumbs
4 T Toffee bits (Skor, Heath, etc)
1/2 C butter, melted
Filling
2 packages cream cheese
1 can sweetened condensed milk
3 eggs
2 tsp vanilla
2 Skor or Heath bars, chopped
Ganache
1.5 squares unsweetened chocolate, chopped
1/4 C semi-sweet chocolate chips
1/2 C whipping cream
1 Tblsp amaretto
Crust
Mix cracker crumbs and toffee bits in food processor. Combine with melted butter, and press firmly into the bottom of 10-inch spring form pan. Bake at 350' for 10 minutes. Remove from oven and allow to cool completely.
Filling
Beat cream cheese until smooth. Beat in sweetened condensed milk until smooth. Add eggs one at a time, beating after each one is added.Stir in vanilla and chopped Skor bar. Spread filling on top of cooled crust. Bake at 350' for 50 minutes, until the centre is not quite set. Turn off oven, but leave cake to cool inside. Do not remove cake from oven until it is cool enough to remove with bare hands. Cover lightly with plastic wrap and store in fridge.
Ganache
In a small pot, bring cream just barely to a boil. Remove from heat, and pour over chocolate. Stir continuously until chocolate is melted and mixture is smooth. Stir in amaretto. Chill for 15 minutes before pouring over cake, working from the centre, and spreading to drip over the sides of chilled cake. Store in fridge for at least 30 minutes before serving to to set.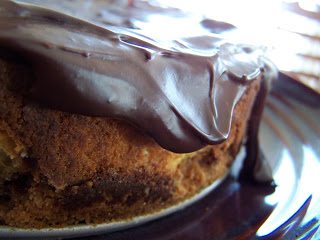 And to make the cake look a little more festive for a birthday, one of my little guys coloured some paper that we turned into a little banner by writing a 'Happy birthday Steve' and taping some toothpicks to the back.