Oh My! Leave it to
Martha
to combine two of my favourite sweets (whoopie pies and carrot cake) into one
delicious recipe
.
(If you are thinking: "I thought she said her favourites were cherry pie, cheesecake, red velvet, coffee ice cream, coconut cream cupcakes..." you are still right. I've got a wee bit of a sweet tooth).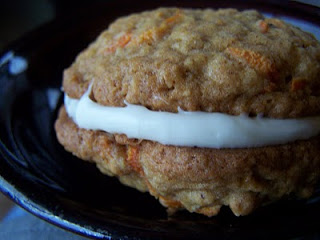 1 C brown sugar, packed
1 C white sugar
1 C butter, softened
2 eggs
1 tsp vanilla
2 C flour
1 tsp baking soda
1 tsp baking powder
1/4 tsp salt
1 tsp cinnamon
1/2 tsp nutmeg
1/2 tsp ginger
2 C rolled oats
1 1/2 cups grated carrot


Beat sugars and butter until light and fluffy. Add eggs and vanilla, and beat on medium speed until well combined.
Sift together flour, baking soda, baking powder, salt, cinnamon, nutmeg, and ginger. Gradually add flour to butter mixture, mixing on a low speed until just blended. Mix in oats and carrots. Chill dough in refrigerator for 1 hour.


Once chilled, place dough on baking sheets, leaving 2 inches between cookies. Bake at 350` until browned and crisped around the edges (about 15 minutes), rotating pan halfway through. Cool on wire racks.

Once cooled completely, spread cream-cheese filling onto a cookie, and sandwich together with a second cookie.
I got 21 double cookies out of this recipe (ie: baked 42 cookies)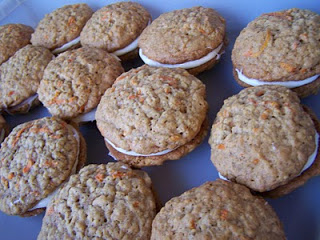 Cream cheese frosting
1 C cream cheese (at room temperature)
1/2 C unsalted butter (at room temperature)
1 1/2 cups confectioners' sugar
1 T lemon juice
Beat cream cheese and butter until smooth and well blended. Add lemon juice. Sift in confectioners' sugar, and continue beating until smooth.
If you have a sweet little curly-haired redhead to lick the beater, all the better.