I read a couple recipes for tortilla soup(particularly
this one
and
this one
) for inspiration, but then improvised a little to come up with this. It was delicious! I questioned whether I would like avocado for a garnish on something hot, as I have always eaten avacado cold. The combination of the sour cream melting into the soup and the gradual warming of avocado totally made this dish!
1 onion, chopped
1 chicken breast, cut into 1/2 inch chunks
2 small zucchini, halved lengthwise and sliced
Handful of fresh/frozen mixed peppers, sliced
4 plum tomatoes, chopped
1 tsp cumin
1 tsp mexican hot sauce (I used PC brand)
1 900ml carton chicken stock
Top with:
dollop of sour cream
grated cheddar cheese
chopped avocado
In a large pot over medium heat, sautee the onion and chicken in a little olive oil until onion softens and chicken appears white. (As you stir, break the chicken up into even smaller pieces) Add zucchini and peppers, and cook until they both soften. Stir in tomatoes and cook until they start to break down - about 3 minutes. Stir in cumin and hot sauce until fragrant - about one minute. Add stock and simmer (covered) for at least 15 minutes. Serve in bowls, garnished with sour cream, cheese, and avocado.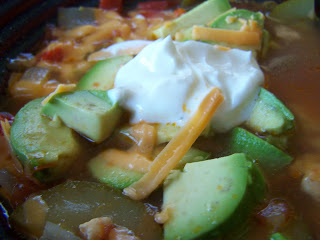 We enjoyed it with some
Brazilian Lemonade
, which was like a lime creamsicle in a glass. I think I would like it even more if it were blended with ice instead of served on the rocks. Next time!