In all my soup-making (and I make a lot of soup), I have never made my own vegetable stock. I bookmarked
this
recipe from
Canadian Living
a while back, and dug it out yesterday when the weather was damp and I felt like making soup. Since making this stock was not part of my plan for the week, I didn't have everything on hand. As such, here's my modified version.
1 can whole
3
tomatoes

tomatoes, drained and liquid reserved
3
3
carrot
carrots
, unpeeled and coarsely chopped

2
3
onion
onions
, unpeeled and coarsely chopped

3
3
ribs
celery
, coarsely chopped
All the leaves from a head of celery, coarsely chopped
3
3
cloves garlic
, smashed

1
1/2
tsp
(2 mL)
dried thyme
2 Tbsp dried parsley

8
8
cups
cups
liquid, combining liquid from tomatoes with water.
Combine everything in a large stock pot and cook on low for approximately 4 hours. (May alternately be done in 6-8 hours in the slowcooker)
Strain stock through cheesecloth-lined sieve (or the two-step method below) into large bowl, pressing vegetables to extract liquid.
Because I didn't have any cheesecloth and my wire strainer is quite small (I got it for making baby food), I first strained it through a regular colander. That removed this big stuff...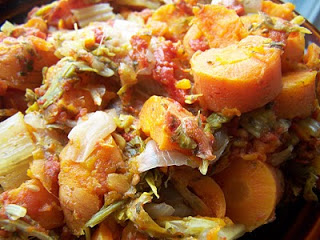 Then I poured it through the wire strainer, and got all this little stuff...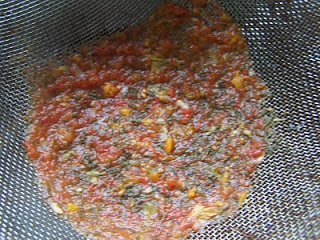 And that left me with 2L of this lovely clear stock!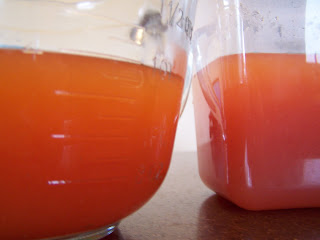 Half of the stock was made to make last night's soup (spinach with white beans and pasta), and half is destined for the freezer.