I had planned to make a chocolate bundt cake to celebrate Nan's 92nd birthday, but then I got such a
great deal
on the springform pans that I felt the need to make cheesecake. I found a
recipe
on bakespace.com, but changed a couple things and made the pumpkin cheesecake below.
1 C graham cracker crumbs
2 T sugar
4 T butter, melted
Combine and press into bottom and up first inch of sides. Bake at 300' for 10-12 minutes until set.
4 pkgs (8 oz) cream cheese, softened
1 1/2 C sugar
3 large eggs
1 C pumpkin pie filling
2 t ground cinnamon
1 t ground nutmeg
Beat cream cheese with mixer on medium speed just until smooth and creamy; do not overbeat. On low speed, gradually add sugar. On low speed, beat in eggs, one at a time, until just blended. Spoon 3 cups of this mixture into pan. Spread evenly. Stir pumpkin, cinnamon and nutmeg into remaining cream cheese mixture; mix until smooth. Spoon over mixture in pan.
Bake 1 hour 25 minutes- 1 hr 30 mins or until edges are set but center of cheesecake still jiggles slightly.Turn off oven; open door at least 4 inches. Leave cheesecake in oven for at least 30 minutes longer. Remove from oven; place on cooling rack. Run a knife along side of pan to loosen cheesecake. Cover loosely; refrigerate. Run a knife around edge of pan to loosen cheesecake again; carefully remove side of pan. Store cheesecake covered in refrigerator.
Here's the old doll blowing out her candles. I hope I look this good at 92!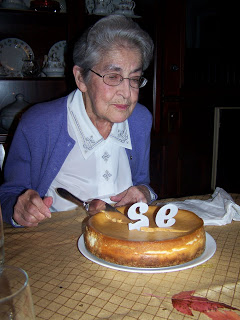 I forgot to take a picture until there was just the lonely last piece, but at least it shows the two layers.