I usually make an obscene amount of chocolate truffles at Christmas time to give as homemade gifts to people. I wanted to thank all the girlfriends coming to my baby shower this weekend by doing more than just sending thank you cards, so I decided to make a treat for everyone to take home with them. This recipe is so simple, but tastes much more complicated!
1/2 cup of butter, melted
1/2 cup of cocoa
1 1/2 cups of icing sugar
Melt sugar in a large bowl in the microwave. Remove from microwave, and stir in cocoa and icing sugar with a rubber spatula to get everything off the sides and allow it to mix quickly and smoothly. Allow the mixture to cool for a couple of minutes, then roll into 3/4 inch balls and place on wax paper.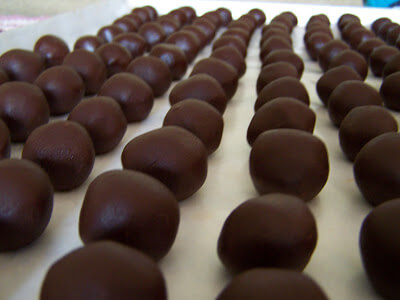 You can decorate these a ton of ways...roll in cocoa, sugar, coconut, crushed nuts, spinkles, etc while they are still soft. Or, wait until they have hardened and dip in chocolate melted in a double-boiler. I did the latter this time, using both blue and pink melting chocolate and then spattering white chocolate on top.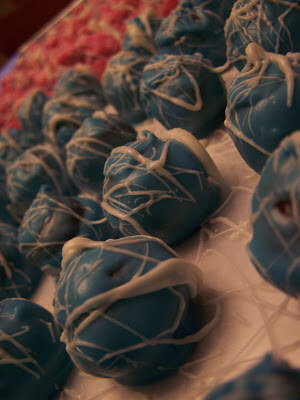 For the shower thank you, I made little boxes like Chinese Take-Out boxes to give the truffles in. I found the
template
online, and then made them out of pretty scrapbook paper. Each box had 6 truffles in it, and was tied up with ribbon and a small matching card.