Although I love my ol' reliable chocolate chip cookie recipe, this one got rave reviews online, so I had to try it. Pretty darn good! As Josh said, they are not better or worse than the regulars - just different. Ever the diplomat, that boy!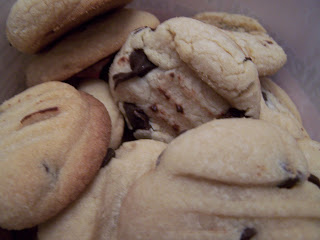 2 1/4 cups all-purpose flour
1 teaspoons baking soda
1 cup butter or shortening
3/4 cups packed brown sugar
1/4 cup white sugar
1 package instant vanilla pudding mix
2 eggs
1 teaspoon vanilla extract
1 cups semisweet chocolate chips
Preheat oven to 350 degrees F (175 degrees C). Sift together the flour and baking soda, set aside. In a large bowl, cream together the butter, brown sugar, and white sugar. Beat in the instant pudding mix until blended. Stir in the eggs and vanilla. Blend in the flour mixture. Finally, stir in the chocolate chips. The original recipe said to drop cookies by spoonfuls, but my dough was too dry for that - I rolled it into balls and pressed them down.
Bake for 10 to 12 minutes in the preheated oven.
Next time, I am going to try it with butterscotch pudding and butterscotch chips. Mmmmm!