Monday September 29th is International Coffee Day. For a coffee lover like me, that sounds like a great excuse to pour an extra cup! Are you a coffee lover too? Do you like free stuff? (Who doesn't love free stuff?!) Staples Canada is hosting
"Pick Me Up Hours" throughout the day, and will be giving away different coffee kits. Just follow
@StaplesCanada and #CoffeeBuzz to get in on the action!
What better recipe to post on International Coffee Day than one containing coffee that also pairs well with coffee! Look no further than this adaptation of my Nan's coffee squares. This light cake cuts very cleanly and offers a sweet coffee flavour, but the icing...oh the icing! This icing is like coffee ice cream that doesn't melt. It's sweet, smooth, creamy, and just the perfect coffee flavour!
1/2 C strong coffee, cooled
1/2 C butter, melted
1 C white sugar
1/2 C brown sugar
2 eggs
1 1/2 C flour
1/2 t baking powder
1/2 t baking soda
1/2 t salt
-----
1 Tblsp melted butter
1 1/2 C icing sugar
1 Tblsp (+/-) hot coffee
Combine coffee, melted, butter, and sugars until smooth. Add eggs and mix until well incorporated. Combine dry ingredients, and add to wet. Beat until smooth. Pour into greased or parchment-lined 8X8 pan. Bake at 350' for about 20-30 minutes. Cool completely before frosting.
To make icing, beat butter and icing sugar until butter is distributed in coarse crumbs. Add coffee gradually and beat until smooth. Add more or less coffee to reach your desired consistency. Frost cake and allow to set before slicing. (I prefer 1 Tblsp to yield a thick icing that sets nicely on the cake and cuts cleanly).
to get in on the "Pick Me Up Hours" Giveaways!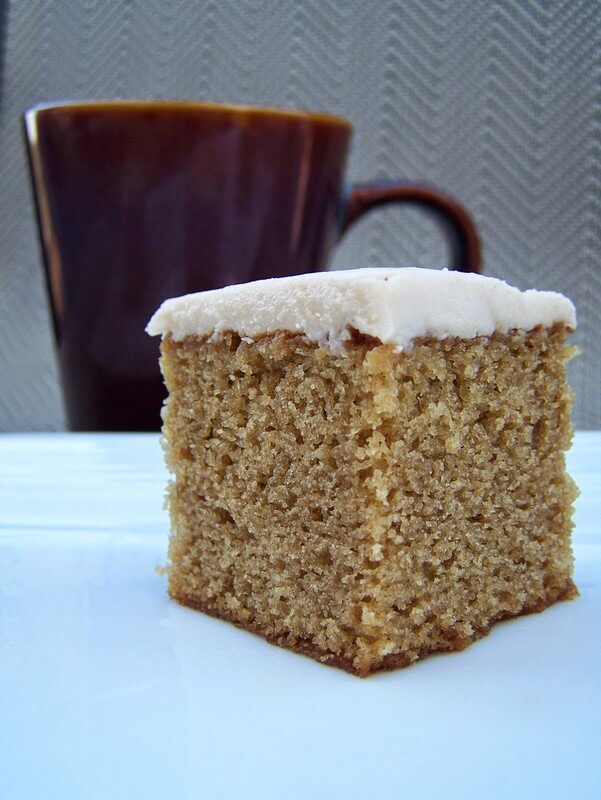 *This is a sponsored post. I have received free products and/or compensation for this post. The opinions featured here are always honest and my own*