I posted a photo on
Instagram
recently, saying that the kids and I were making our favourite Cucumber Watermelon Popsicles. Someone asked for the recipe and when I came to look it up, I realized I had gone all summer without sharing it! I think I neglected to post the recipe because I actually started making them in the winter, when it was a lot less fitting to post popsicle recipes. Before Ruthie had her tonsils and adenoids removed this past March, I made a bunch of different healthy popsicles for her to eat while she recovered. We tried a lot of different combinations, but this one was far and away the family favourite. I originally found this recipe on
Wholefoods Market Cooking
, but the recipe does't seem to be published there any longer.
2 C watermelon, chopped*
2 C cucumber (If English cucumber, peeled and chopped. If field cucumber, peeled, seeded, and chopped)
1 Tblsp lime juice
2 tsp (+/-) honey
Combine all ingredients in a blender or food processor until as smooth as possible. Pour into popsicle molds and freeze until solid.
*Note: The original recipe called for 3C watermelon and 1 C cucumber, and I've gradually changed the recipe to use equal parts of each. If you are unsure if your family will go for these, you may want to start with the original ratio.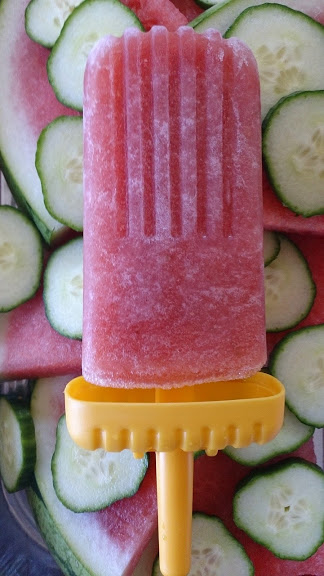 Ruth LOVES having ring-popsicles. My sister got us the mold at The Christmas Tree Shoppe (love that place) for $1.99!