This recipe is something I am always tweaking and playing with, depending on what we have in the pantry or what I feel like throwing in. As long as you keep the butter/sugar mixture the same and use 3 cups of dry ingredients, they always turns out great! You may want to start with
the original recipe
I started with (found
here
on
Lauren's Latest
) and make it your own gradually, or you may wish to just jump right into new combinations. It's a fun recipe to play with! Here's the combination I made today, as pictured below.
1/4 C butter
1/3 C brown sugar
2 Tblsp honey
1/2 tsp vanilla
Pinch of salt
1 1/2 C quick oats
1 C Rice Krispie cereal
1/4 C wheat germ
2 Tblsp ground flax
1 Tblsp flax seed
1 Tblsp coconut
1/2 tsp cinnamon
1-2 Tblsp mini chocolate chips (optional, but always sells the kids!)
Combine butter, brown sugar, and honey in a small pot. Bring to a boil over medium heat, and boil for 2 minutes. Meanwhile, combine all remaining ingredients
except
chocolate chips. Once butter mixture has boiled for 2 minutes, stir in vanilla and pinch of salt. Combine butter mixture with dry mixture until well coated. Press into a parchment-lined 8-inch square pan. Sprinkle with chocolate chips and press into granola mixture to stick. Allow to cool completely at room temperature before slicing. (I remove the parchment to take the full pan of bars out at once. I cut into 12 to yield bars the same size as commercial granola bars) Wrap tightly for freshness.
On the right: a store-bought granola bar with 21 ingredients. On the left: my homemade granola bar with 12 ingredients. I don't think you will miss what I left out: "...canola and/or soybean oil, fructose, glycerol, soya lecithin.."
Which one would you choose?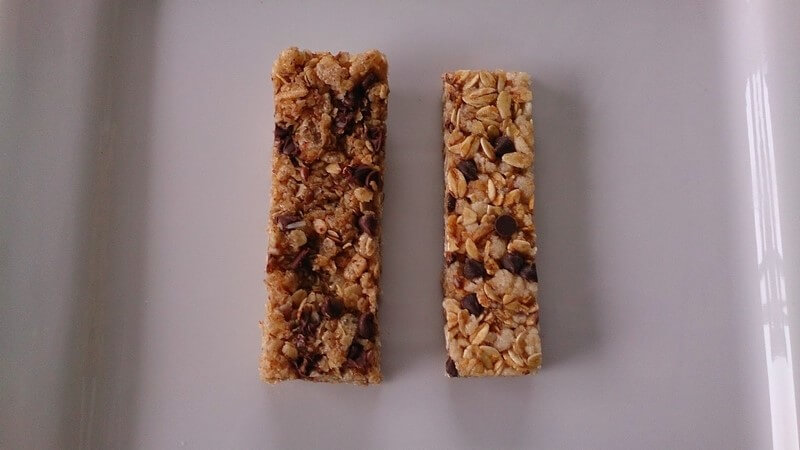 Are mine as thick and chewy as theirs? You bet! Even more!