I made these for St Patrick's Day, and they were simple and delicious.
I saw the idea
here
, using Girl Guide Thin Mint Cookies. Of course, we don't have those in Canada. (The US girl guides seem to be light-years ahead of us in cookie offerings. HA!)
We might not have Girl Guide Thin Mints, but we do have these...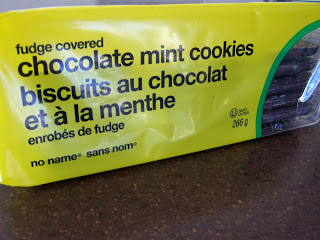 Yup, that's No Name Fudge Covered Chocolate Mint Cookies. You can find them at Superstore, No Frills or any other Loblaws banner store. And since they are No Name, you know they are budget-friendly!
1 package (266g) of Fudge Covered Chocolate Mint Cookies
1 package cream cheese (at room temperature)
White and green melting chocolate for dipping/decorating
Crush cookies to fine crumbs with food processor, stand mixer, or any other aggression-busting method you deem worthy. Once you have fine crumbs, mix well with cream cheese until it forms something like a dough. Roll this 'dough' in to 1-inch balls. Chill until firm, before dipping in melted chocolate and decorating as you please.
(My friend Julia makes these with Oreos, and they are delicious too...a big hit at our bookclub meetings!)
Decorated for St Patrick's Day with green stripes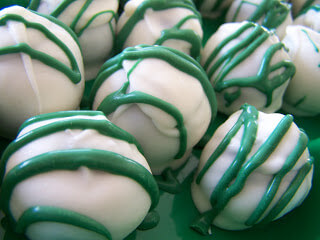 Yum...minty fudge centres!