I found
this recipe
via Pinterest and first made it a month or two ago. The kids went bananas for it! We made it again yesterday, and it was just as much of a hit the second time around. The author of
the blog
has some neat ideas (and who doesn't like healthy desserts?), and I'm eager to try more of
her recipes.
The first time I made it, I cut the sugar back significantly from the
original recipe
and it was still plenty sweet. Yesterday, I shaved off another 1/4 cup and we didn't miss it at all. (The
original recipe
calls for 1 1/2 cups, my first attempt reduced that to 1 cup, and yesterday I reduced it further to 3/4 cups.)
2 cans white beans or chickpeas (or one of each), drained and rinsed
1 C quick oats
1/4 C unsweetened applesauce
3 Tbsp oil
2 tsp vanilla extract
1/2 tsp baking soda
2 tsp baking powder
1/2 tsp salt
3/4 C brown sugar
1 C chocolate chips
Blend the first 9 ingredients in a food processor until uniform. Stir in chips. Spread into a greased 10-inch springform pan. Bake at 350` for 40 minutes. Remove from oven, and run a knife around the edge to loosen the pie. Let stand and cool before removing from the sides of the pan.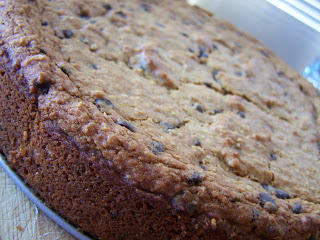 And it is lovely served warm (reheated, not straight from the oven) with a scoop of vanilla frozen yogurt!