I found
this cookie recipe
, and pretty much started drooling on the spot. I made them for two different events in about a week's time, and had several requests for the recipe. Here goes!
3/4 C butter
1/2 C white sugar
1/2 C brown sugar, packed
1 egg
1 tsp vanilla
1 1/4 C flour
1 C coarsely crushed graham cracker (original recipe calls for crumbs, but I liked biting into chunks of graham)
1/2 tsp salt
1/2 tsp baking soda
1 1/2 C chocolate chips
1 cup (+/-) mini marshmallows
2-3 Hershey bars, broken into squares
Beat butter, white sugar, and brown sugar until light and fluffy. Blend in egg and vanilla. Add flour, graham cracker crumbs, baking soda and salt. Mix well. Stir in chocolate chips.
Drop dough by spoonful onto greased cookie sheets about 3 inches apart.
Bake @ 375` for 8 minutes. Remove and quickly press marshmallows and Hershey squares into cookies. Return to oven for an additional 4 minutes.
I crushed the graham crackers by hand so I could control how large/small the pieces were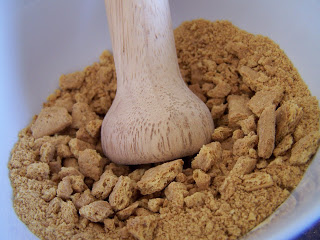 Yum! All the deliciousness of a Smore, but great for a rainy day :)