On a hunt for a bok choy recipe that wasn't centred around soy sauce or sesame,a friend suggested
this
recipe. I used it as a starting point with a bunch of ingredients I had on-hand. Once the first recipe was made, I tweaked it twice to make two more meals which I'll share below.
2 of
Dave
's giant green onions (or a bunch of regular size)
1 can coconut milk
1/4 cup soy sauce, divided
1/2 teaspoon brown sugar
2 teaspoons curry powder
1 teaspoon minced fresh ginger
3 tomatoes, chopped
1 red pepper, thinly sliced
1/4 cup fresh basil, chopped
4 cups bok choy, chopped

Chop whites of the onions finely, and greens into larger pieces to serve as garnish.
Combine coconut milk, 3 tablespoons soy sauce, brown sugar, curry powder, and ginger in a large pot over medium heat. Bring to a boil. Add tomatoes, red pepper, and whites of green onions. Cover and cook 5 minutes, stirring occasionally. Mix in basil and bok choy. Add remaining soy sauce and cook for an additional 5 minutes, or until vegetables are tender-crisp. Serve over rice and garnish with green onion.
(This photo doesn't show how saucy the dish really is)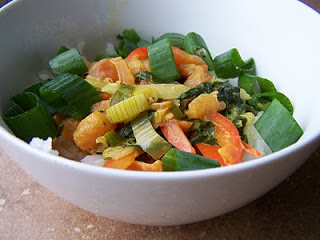 Because I skipped the chile paste from the original recipe, we found this recipe very mild. Next time, I'll add curry paste in its place...which is exactly what I did with the leftovers.
For our
second
night of this curry, I softened some curry paste in a pot with a tiny bit of olive oil before adding the mixture to reheat (you could add a little milk or stock if too thick). As it came to a boil, I added some chopped Swiss chard, covered the pot, and simmered until it was softened - about 5 minutes. We had it over noodles the second night.
For our
third
night of this curry (can you tell I like to stretch a meal?), I sauteed chopped beet greens until soft, and then added the leftover mixture to combine. I stretched pizza dough, lightly brushed the outer edges with olive oil and sprinkled with Parmesan cheese, topped with the curry mixture and grated mozzarella cheese, and cooked on the grill. (See
here
for my how-to on grilling pizza)
I think the third meal was my favourite, but I've got a thing for pizza!