It was worth the excitement and the wait: Look at the abundance of lovely fresh local food!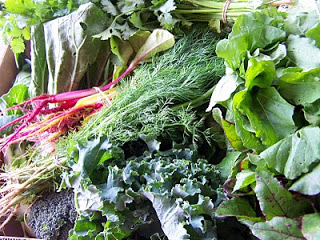 This week's pack included:
Spanish Onions
Beet Greens
Kale
Broccoli
Bok Choy
Romaine
Dill
Cilantro
Arugula
Spinach
Swiss Chard
Free-run Eggs
Multi-Grain Bread made with unbleached Spearville flour
...Oh my!
If you are curious what I plan to make with these goodies, check out
this post
...and come back throughout the week for pictures, recipes, and reviews.