A couple years ago, I made
mini-cakes
to deliver to friends and family for Valentine's Day. I decided to try them again for a Valentine Playdate that we hosted, but opted to go with Red Velvet Cake. In typical fashion, I couldn't find one recipe that seemed to be everything I wanted, so I kind of combined a few to make this. They didn't turn out exactly as I would have liked in colour, but the flavour was great!
1/2 cup shortening
1 1/2 cups sugar
2 large eggs
1 tsp red gel food colouring
6 Tbsp water
1 tsp vanilla
2 C flour (measured, then sifted)
1/2 teaspoon salt
2 tsp cocoa
1 cup milk
1 tbsp white vinegar
1 tsp baking soda
Combine soda, vinegar, and milk. Set aside and allow to fizz.
Combine gel food colouring, water, cocoa, and vanilla. Set aside.
Combine flour, salt, and cocoa; set aside.
Beat sh
ortening at medium speed with an electric mixer until fluffy; gradually add sugar, beating well. Add eggs, one at a time, beating until blended after each addition.
Add flour mixture to shortening mixture, alternately with milk mixture, beginning and ending with flour. Beat at low speed until blended after each addition. Beat at medium speed 2 minutes; pour batter into greased 11X14 sheet pan. Bake at 350° for 25 minutes. Cool in pans on wire rack. Once cooled, cut cake with cookie cutter. Sandwich cream cheese frosting between layers and dust with icing sugar.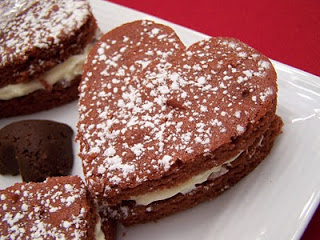 And what can you do with all the "scraps" left from cutting the shapes?
Red Velvet Cake Balls
, of course!