My kids eat apple pancakes at least once a week. The recipe has slowly evolved from a really old standard Betty Crocker pancake recipe, and currently looks like this.

1 egg
3/4 C flour
1/4 C quick oats
1/2 C apple sauce
1/2 C milk (more or less)
3 tsp baking powder
1/4 t salt
1/2 t cinnamon
1 small apple, peeled and grated
Combine all ingredients, adding the milk last and adding more or less depending on the consistency of the batter. For each pancake, pour onto a hot pan and cook until cake is puffy and bubbles on the surface are popping. Flip, and cook for an additional minute or two. Serve immediately, or cool on wire rack and reheat in the toaster.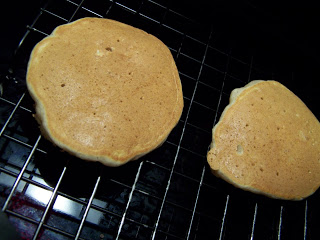 And sometimes we add raisins and make little faces. It's the little things in life that make us the happiest, right?