We just moved into a new house last week and are still gradually filling up the pantry. We had porkchops, but I wasn't really sure how to serve them with what we had. I made this up as I went, and it was delish! All measurements listed are approximate.
2 Tbsp Peanut Butter
1 Tbsp Milk
1 tsp curry paste
1 egg, beaten
1/3 C dry bread crumbs
3 porkchops

Combine first 3 ingredients in a small bowl. In another small bowl, beath the egg. Spread the bread crumbs out in a small dish. Dip the porkchops into the peanut butter mixture (rub to coat). Dredge the coated porkchops through the egg. Dip both sides in the bread crumbs. Place in a pan, drizzled with a little olive oil, over medium heat. Cook approximately 7 minutes a side or until done.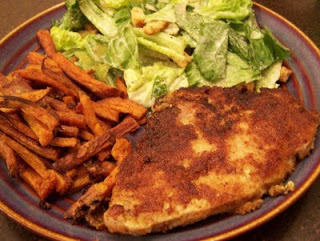 Mmmmmm! We had it with
sweet potato fries
and a ceasar salad. Yum!