Looky-looky at my afternoon indulgence...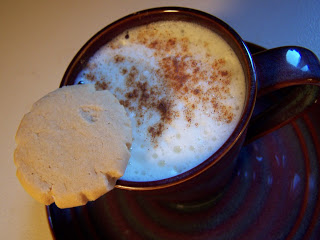 Warm eggnog with frothed milk and cinnamon, along with a Melting Moment.
'A what?' you ask? A Melting Moment.
You may remember my Nan from
her birthday cake post
...and you may remember the old recipe box she gave me from
this post
.
I remember having these cookies so many times as a kid over the holidays, but I had never made them myself. It was a trip down memory lane to taste them today!
3/4 C brown sugar
3/4 C shortening
1 egg
1 tsp vanilla
2 C flour
2 tsp cream of tartar
1 tsp baking soda
1/2 tsp salt
Cream the first 4 ingredients. Combine the dry ingredients. Stir the dry ingredients into the creamed mixture until you have a smooth dough. Roll into balls and flatten with a fork or the bottom of a drinking glass. Bake at 350' for 10 minutes.