Trying to kill some
'waiting for baby'
time and thinking ahead to
'too busy to cook'
time, I made a slew of snacks yesterday to freeze. I made two of my faves: the recipes and pictures for my
cranberry-apple muffins
and my
banana-chocolate chip
are already posted here. I also tried two new ones: Power Hungry Muffins (I think I got the recipe from someone on
thenest
.com, but I didn't note who), and Yogurt Strawberry biscuits (which I created from a recipe for
strawberry yogurt scones
that I had found online).

1 1/2 cups whole wheat flour
1 1/2 cups old-fashioned oats
1/2 cup raisins
1/2 cup dried cranberries
2 tsp baking powder
1 tsp baking soda
3 tsp cinnamon (plus extra for sprinkling)
4 egg whites
1 cup honey
1 cup vanilla yogurt
2 ripe bananas, mashed
Preheat oven to 350 degrees. Grease muffin tins. In large bowl, stir together dry ingredients. In medium bowl, whisk together wet ingredients. Carefully fold wet ingredients into dry ingredients just until moistened. Fill each muffin cup 3/4 full. Sprinkle tops with cinnamon and a little brown sugar, if desired, and bake about 12 minutes or until done.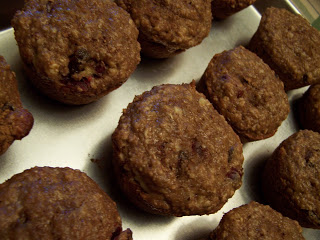 Yogurt Strawberry Biscuits
1 ½ cups all purpose flour
2/3 cup whole wheat flour
2 tsp. baking powder
½ tsp. baking soda
¼ tsp. salt
1 cup homemade strawberry jam
2/3 cup vanilla yogurt
3 Tbsp. butter, melted
1 large egg white, lightly beaten
Preheat oven to 400°. Combine flours, baking powder, baking soda and salt in a large bowl. Combine jam, yogurt, butter, orange juice, and egg white; add to flour mixture, stirring until just moist. Drop by spoonful onto a baking sheet coated with cooking spray. Bake for 20 minutes or until lightly browned.