Last night's supper was a bit of an invention as I thought of a couple of things I felt like eating, threw them all together, and put them in the oven.
8 Manicotti
Cook in boiling water for 6 minutes, or until flexible but not too tender.
1/4 C chopped red onion
1 green onion, chopped
2 cloves of garlic, minced
Salmon fillet, cut into pieces
Saute onions and garlic until fragrant, then add salmon. Break salmon into smaller pieces as it cooks. Remove from heat and place in bowl.
1 tomato, chopped
1/4 C parmasean cheese
1/3 C sour cream
1/3 C dill dressing
(I would have rather used fresh dill, but I didn't have any - so I just used a dill dip I had in the fridge. Next time, if I plan ahead, I'll probably make a dill sauce onthe stovetop first)
Add all above ingredients to bowl with salmon mixture. Gently stir to combine. Stuff each manicotti with the mixture and lay in a lightly greased casserole dish.
1/4 C sour cream
1/4 C dill dressing
2 T milk
Stir to combine and pour over filled manicotti. Sprinkle with parmasean cheese.
Cover manicotti with tin foil and cook at 350' for 30 minutes. Remove tin foil and cook for an additional 10 minutes.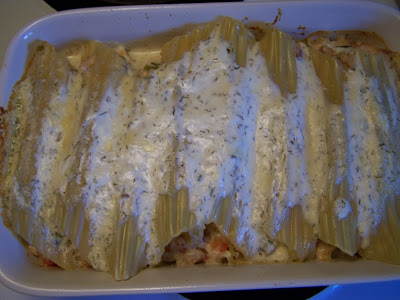 Rave reviews from The Mister :)